Carpentry Service Melbourne
Need a carpenter to create a customised wooden structure for your home or business?
Do you want an expert to create wooden cabinetry exclusively for your home or business?
Renovating and need a specialist woodworker to find a quick fix to a less common problem?
Whatever the carpentry job, large or small, if you're renovating, upgrading, maintaining, repairing or constructing wooden structures, features or furniture around the house, garden or business, then get in touch with APMG Services.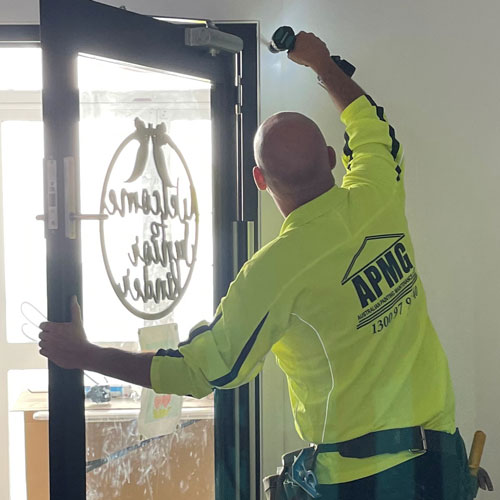 A ONE-STOP-SHOP FOR TRADIES, INCLUDING CARPENTERS IN MELBOURNE.
We will consult with you to identify and agree upon exactly what you need and get to work planning and fulfilling your carpentry needs.
Our experienced team of carpenters work with clients on residential renovation projects, new build developers, commercial and industrial businesses.
We service all types of industries including schools and childcare centres, retail shops, restaurants, body corporates and aged care facilities to name a few.
We Offer All Types of Carpentry Services
No carpentry job is too big or complex for our team. With over 15 years in the industry, we have the experience, knowledge and tools to create solutions for any of your specific carpentry needs.
Our carpenters can renovate, construct, build, repair, install, maintain or erect anything made with wood, including:
Framework
Decking
Pergolas
Carports
Flooring
Fences
Window and door frames
Kitchen or bathroom cabinetry
Benchtops
Built in bookshelves and storage
Kid's cubby houses
Commercial and Industrial projects
Interior walls
Joinery
Retaining walls
And so much more!
With a highly-experienced carpenter on your team, you can create just about anything for your home or business.
Get in touch with the team at APMG Services on
1300 97 97 40
to discuss your carpentry needs and we'll be happy to provide a FREE QUOTE.
SAVE TIME & STRESS LESS! Need to book a few tradies for a project? Don't have the time to ring around a million services, only to book in unreliable tradies who don't show up on time, or worse yet, at all?
If you need several reliable trade services to complete your reno or building project, then we can help with our one-stop-shop for services available under one roof.
READ MORE
Call Now Button