Handyman Services Melbourne
Need a multitalented handyman to save the day and fix, build or install a few different things at once?
Looking for some help around the house or business to complete a long list of tasks?
Do you need a custom solution for a shop or office fit out?
Need help getting the finishing touches done on a renovation or new build property project?
If you need a handyman to help with any aspect of renovating, decorating, installing, maintaining, repairing or constructing various things, around the house, garden or business, then get in touch with APMG Services.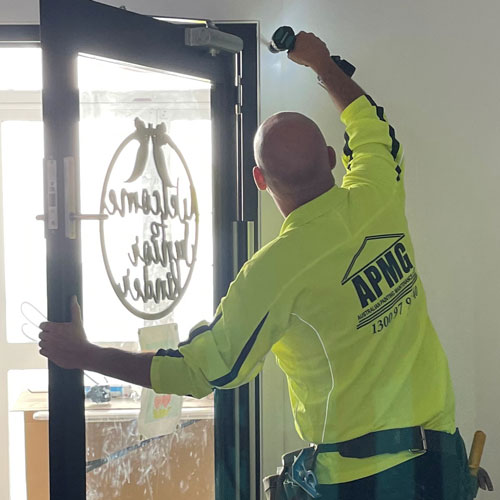 A ONE-STOP-SHOP FOR TRADIES, INCLUDING HANDYMAN SERVICES IN MELBOURNE.
We will consult with you to identify and agree upon exactly what you need and get to work planning and fulfilling your various handyman requirements.
Our experienced team of handymen work with clients on large residential home decorating, renovation or garden projects, new build developers, commercial and industrial businesses.
Our handyman services teams are highly experienced in a variety of areas of repairs and construction. They're jacks of all trades and often masters of many, who can knock over whatever tasks you set them.
They have the knowledge and creative thinking skills to find a solution for many different building or repairs problems, so let us know what you need and we'll create a custom solution for your specific construction needs.
Our handymen can do some of what a carpenter can do, but also have a variety of other skills they're happy to put to good use to construct, build, repair, paint or install virtually anything, anywhere. This is including, but not limited to:
Decking
Pergolas
Carports
Flooring
Repair fences
Window and door frames
Kitchen or bathroom cabinetry
Benchtops
Painting, pressure washing or sanding
Constructing shelving or flatpacks
Built in bookshelves and storage
Kid's cubby houses and play equipment
Clean gutters
Interior walls
Office or retail fit outs
Landscaping
Tree lopping and gardening
And so much more!
With an experienced handyman on your team, you can knock over a lot of jobs in a short amount of time in your home or business.
Get in touch with the team at APMG Services on 1300 97 97 40 to discuss your handyman needs and we'll be happy to provide a FREE QUOTE.
Project Management – SAVE TIME & STRESS LESS!
Need to book a few tradies for a project? Don't have the time to ring around a million services, only to book in unreliable tradies who don't show up on time, or worse yet, at all?
If you need several reliable trade services to complete your reno or building project, then we can help with our one-stop-shop for services available under one roof.
READ MORE
Call Now Button